A Day in the Life of... A Labor and Delivery Nurse - Part 1
It's the first Friday of the month! Although a holiday in the middle of the week seems to have thrown us a bit off, we are excited to bring you the next installment of our blog series, "A Day in the Life of…"
July and August are said to be the months with the highest birth rates. Maybe miserable winter weather brings people closer together? We aren't sure and we are not experts on birth or children, but our featured blogger this month is.
Today we start with the first of four July installments that reveal a day in the life of a Labor and Delivery Nurse. That's right, we're doing something a little different for this feature. Instead of just posting once this month, we will instead present the story in four parts, one running each Friday in July.
- Paradise Writing
Naomi S. is a labor and delivery nurse in Texas. She has 4 kids and likes to read, sew and cook on her days off. She also does breastfeeding support and is studying for her lactation consultant certification.
I'm a registered nurse in a labor and delivery ward. I have a bachelor's degree, and I got into nursing because I wanted to do breastfeeding support professionally. Somehow, here's where I ended up. I won't always be here, but for now, it's where I can make both a difference and a living. I've been involved in this world for about 10 years, though not always as a nurse, that's been the last 4-5 years. I work the night shift exclusively right now.
When I start my day, everyone else is just getting home from work and shopping. I've been asleep since sometime in the morning. Depends on the day, but I'm usually in bed any time between 4 am, if I haven't worked, and 10 am, if I have. Today, I went to sleep at 4. I sleep all day, trying to ignore kids yelling, squealing, fighting, playing, dogs barking, the construction crew next door or down the street, the dishwasher running, my husband trying to keep the kids quiet, the doorbell ringing with packages. I usually sleep OK, not great. I'm always tired, but usually once I sleep, I sleep well enough that I'm not scared I'll hurt a patient. Today was pretty good.
So I get out of bed between 5:30 and 5:45 pm, take my thyroid medication, because shift work has screwed up my body and my metabolism, and find a set of scrubs to wear. It doesn't matter what color the set is, or if it's wrinkly because I'll change as soon as I get to work anyhow. I turn on the shower and brush my teeth while it's warming up, putting my hair up in a shower cap, because my thick hair can't be wet before a shift. The hospital is too cold. I've got too much hair to air dry before I get there. I don't want to blow dry it before I leave. I'll wash it in a day or two when I'm off.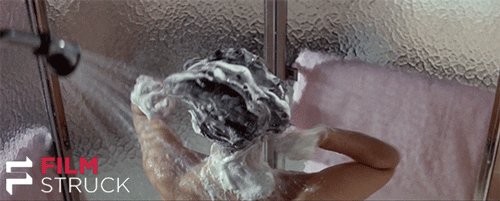 I don't take a long shower. Wet, lather, rinse, stand there for a minute under the shower, and I'm out in 10 or 15 minutes. I don't have time to loiter, letting the bathroom steam up and the water hit my weary shoulders. Sleep is too important, and as soon as they hear me stumbling about my bathroom, the kids will be pounding at the door. I hear them already, peeking in through the bedroom door as I towel off.
"Mom? Are you up? Come and see what Ellie did today!" says my 5 year old. She's talking about the baby. She wants me to see her art project. Little fingers have made an artistic mess out of finger paints and markers.
"It's cute," I say, "Good job Ellie! Now get out of here, I have to get ready for work!"
Disappointment wells in little eyes.
"Do you have to go to work tonight?" she says.
I sigh. "Yes, there's no snuggling tonight. Dad will read you a story."
I find my socks. They're not pretty, but they're cushioned and have arch support, and they have some kind of fancy bamboo fiber that keeps the stink out of my shoes. I like these socks. I'm dressed and I grab my phone. It's 6:05, already, and I still have to brush my hair and grab my stuff. I don't do makeup. Takes too much time.
My husband has done his very best to make a lunch for my looming 12 and a half (sometimes 13 or 14) hour shift. He's not a cook, so he usually packs something that I've made the day or two before, and some sandwiches and some toast and yogurt for breakfast. I wish there was a salad in there, but the man can't handle green things, and I'll likely throw away whatever he's given me because it'll be gross, anyhow. So unless I make myself a salad before I go to bed, there's no salad. It's OK. He's finally remembered I like the leftover veggies in there too. The lunch he packs me means I don't have to wake up at 4 pm, so I'll take what I can get.
By the time it's 6:10, I am ready to leave, waiting for my sister to grab the baby, who has by this point latched onto me like a cute four-toothed barnacle, so that my husband can drive me to work. Strictly speaking, I could drive myself. But then I have to drink something caffeinated for sure, and my blood pressure, already borderline from shiftworker syndrome, will rise. I'd also have to leave at least 15 minutes earlier so I would have time to find a parking space, walk to the hospital, and then to my unit in time to clock in. My husband drives me so I can sleep on the way home.
Small mercies.
(end part 1)
We hope you enjoyed this peek behind the curtain.
Be sure to read Part 2 of Naomi's story next Friday, July 13th.
Leave your comments below. If you want to contribute to this series, just contact us here. We'd love to hear from you!
#nursing #breastfeeding #laboranddelivery #parenting #healthcare #workingmothers #lactationeducation #registerednurse #RN #BSN #Texas